Gjendesheim
Gjendesheim, Jotunheimen, Norway February 2004


After my last exam this January, on the 31st, I felt more than ready to take some time off. Lucky for me, my father had given me a christmas present of half the cost of a trip to Jotunheimen in the beginning of February. We travelled by bus, my father from Copenhagen, myself from Odense to arrive at Gjendesheim on the saturday morning.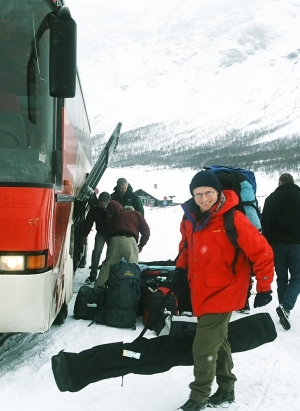 Our plan was set from the first day; we would climb as many of the nearby summits as possible, starting on the sunday by heading for Bukkehø. It was a long trip and the weather was extremely cold, minus degrees and strong wind, which turned out to last for most of the week.
So we climbed Bukkehø with the wind straight in our faces and subsequently we got blown down again. On the whole trip, about 10 hours, we only stopped once to have a bite to eat. It was simply too cold to stand still for five minutes.
In the evenings the dinner was prepared in teams guided by a professional chef. Even though several of the dishes were prepared from preserved foods, all guests ate several servings each day with delight. Every day the starter was a soup and most days we had a dessert as well. One day we had pancakes with icecream. Mmm, it was just the job for replenishing our energy reserves.
The trip was arranged by Ruby Rejser and it included a guide Allan who stayed at Gjendesheim with the group. Most days he would suggest to lead a trip that everyone could join. This was a good idea since many of the participants were not used to planning and undertaking expeditions independently and the Jotunheimen area has only few marked routes. However, my father and I chose to plan our trips independently, so we could go farther and faster than we would be able to if we accompanied a larger group.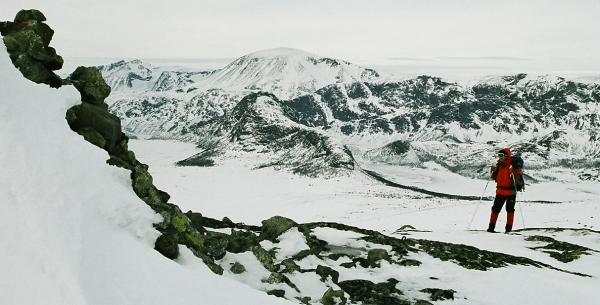 Each day we completed a 8-10 hours trip, except one day when we joined a few others to Lemonsjø Alpine Centre to practise Telemark. Surprisingly, I managed quite well, made lots of good turns and most important I did not bruise my knees. Talking about bruises, I must admit that I got blisters on my heels from the very first day. I swore that I will buy a new pair of boots before I go skiing again. But alas, I went to Norway again in March with the same pair of boots...
As well as planning tours, Allan also planned special activities for the group such as hiking with snow shoes, elk spotting, and an ice fall expedition. We did not sign up for any of them, since we wished to do skiing and besides had no plans to spend extra money during the stay.



One morning a norwegian guide came to Gjendesheim to give an introduction to the unbelievably complex science of waxing skis. We were all very impressed by his tips and techniques and, as could be expected, we all continued more or less to wax our skis as usual.
The weather continued to be windy and stormy, but during the last couple of days the temperature rose making the snow wet and slippery and producing dangerous ice glazing on the front door steps.
We still went on our long trips, but it became increasingly difficult to climb the steep hills. Thankfully we were equipped with skins for our skis, helping us both up and down of many a steep slope. On the summit pictures, notice how we are always packed in behind a thick layer of clothes because of the cold. The wind is not directly visible on the pictures, except maybe here...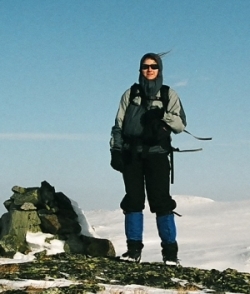 It was a good holiday in spite of the cold. The area has lots of possibilities for one day and overnight trips mostly on unmarked routes. And of course, the scenery was magnificent!

Links:
Gjendesheim homepage
Photos Gjendesheim 2004
The entire Photoalbum
Glacier course Norway 2003
Other glyn travel destinations


Use the menu at the top of the page to access the rest of www.glyn.dk


-glyn