African dancing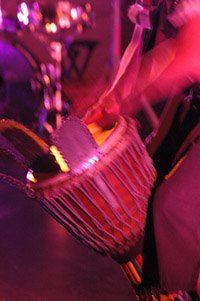 I still do African dancing at
Doornroosje
once a week. It is usually on Thursdays (after climbing) but this week we had the lesson on Wednesday instead to exercise our dance to live djembe music . The music is played by the djembe class of Mariekes husband Claude Mukwaba - a great team those two.
Our dancing looks something like
this
- we do a number of different dances from Congo and West Africa.
Photo courtesy:
Lorne Finley at www.drleepercussion.com