Encounter in the dark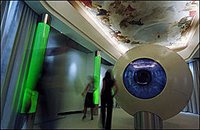 I got an unexpected visit from two friends (
Allantech
and
Graffen
) from Denmark. They informed me only last week that they would visit me this week from Tuesday to Thursday. What a pleasant surprise! I took the day of Wednesday, and we went sightseeing in Nijmegen.
One of the most interesting sights was not a sight at all: we went to the
MuZIEuM
to experience what it is like to be completely blind. Guided by Bart, we walked through an office, a back yard, a park, a marketplace and a cafe in complete darkness. Our only aids were our canes and the comforting voice and support of Bart. The experience 'opens your eyes' for another way of 'viewing the world', namely with your hearing, your sense of smell and subtle differences in touch and feel of things. I can really recommend this museum for future tourists in Nijmegen.
Visit the
MuZIEuM online
.
Labels: friends, museums, Nijmegen, sightseeing