Bring your alpaca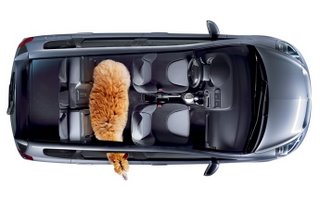 I was browsing mailinglists, and read in a review of the
Smart car
, that the reviewer found the
Honda Fit
a better choice for a small fuel-efficient car. Of curiosity I
googled "Honda Fit"
, since I know what a
Smart
looks like, but I had never heard of a
Honda Fit
. Apparently, the
Honda Fit
is a small car with a big interior. On their website Honda illustrate how you can fit five people, or a surf board, or your bike, or your
alpaca
... in the car.
Illustration courtesy:
Honda Fit interior photos