Help women stay in science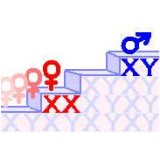 This
article and graph from 2000
showing the proportion of women in academic positions is nearly unchanged when updated to figures of today.
An editors note "Help women stay in science" from
The Scientist in September 2007
, initated a flood of comments with interesting personal views and points on what it is that causes the heavy gender imbalance at top scientific leadership positions.
A quote from the comments:
"I don't know why some of the more seasoned members of the scientific community haven't realized the untapped potential of hiring mothers part time (is no one else aware of thier multitasking capabilities??)"
- The story continues in The Scientist January 2008 issue: "
Why aren't there many women in the top spots in academia?
"
-
Tinyflame blogging on "Women in Science"
- SES
Science diversity Meme: Women scientists